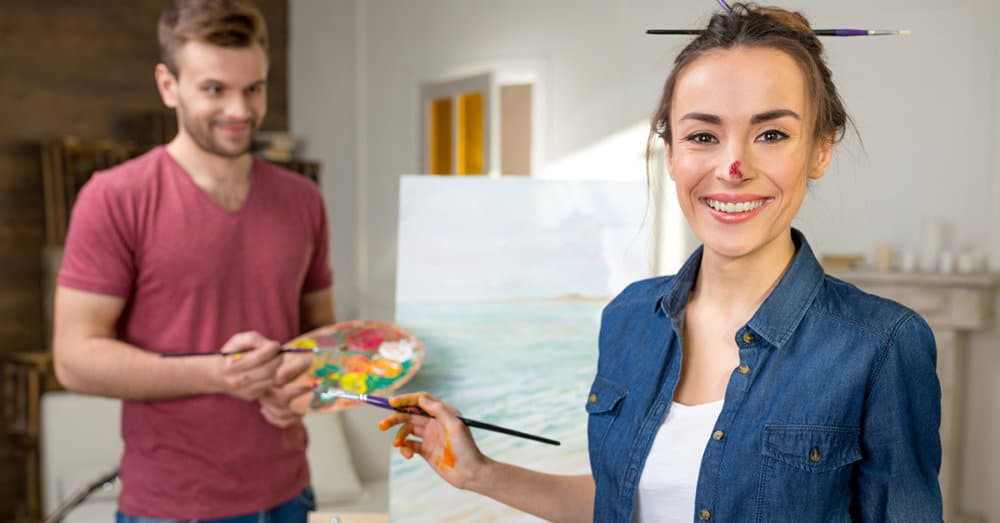 Top Five Corporate Team Outing for Artists, Designers and Painters.
When it comes to a corporate team outing, artists, designers, and painters know how to play their ball right. Starting from the very parties being thrown for these set of people, to the very art itself, nothing about them cannot be adored.
Their craft brings beauty to life. However, these artists run out of creative juices too due to exhaustion and sometimes, without them knowing it. Oftentimes, you won't see an overworked artist at first sight. As such, it reaches a point where actually giving them a break from their usual reality makes loads of sense. So, what social events ideas that double as corporate team outing do we have for your creative team department?
What Corporate Team Outing Works For Them?
When it comes to these specific set of people, simplicity brings out a better sophistication for them. Hence, if trying to understand a group of artists or designers, try something easy to pull and challenging.  An activity that you yourself will enjoy doing without necessarily having to spend gallons. The easier route is always the righter route.
Cook-Offs
If trying to appeal to any artist, try introducing another form of art and make it compulsory for them to participate in, says Doctor Wayne Grenger from the Harvard University. Cooking in itself is a beautiful art; now, it can be beautiful to your employees.
A corporate team outing can be in the form of cooking competitions amongst different teams. Remember that this is not just a corporate team outing event for them.  It is also a learning experience as the cooking part will tend to instill some form of unique creativity and some new ideas for the artists.
Creating new dishes together also brings unity amongst the teams as they get to rely on each other. Note that if a member of a group messes up the recipe, then the whole group is doomed since the food might be spoilt. It, therefore, calls for leadership skills on another level.
Divide your group into sub-teams with each team challenged to come up with a special dish from a food category of your choice. This could be just about anything ranging from pizza to salsa and ice cream.
Be sure to reward the foods that you cannot resist. Following cooking protocol and coming up the closest outcome within cooking time limit should also get some form of rewards. At the end of the day, your team should realize that it's all fun play and even the disastrous foods deserve some appreciation.
Escape Room Games
Companies have emerged all over the globe offering the escape room experience for corporate team outings. You want to have some thrilling fun with cooperation assured, this is the 21st Century way.
The science behind escape rooms is simply appealing to human curiosity; the need to know more, even if that more will lead you to some imagined danger – being eaten alive.
The teams are simply put in a room and locked inside. There has to be some eccentric feature about the room; perhaps it's some haunted room or a room with a hidden treasure which if not found, you will be found and devoured alive. Then, time is set for each group that goes into the room – could be 60-minutes for most escape rooms within which you're supposed to have found your saving grace, that is, your way out. Corporate team outing places in Hyderabad have been primarily using escape game technology to motivate their employees.
These games inspire creativity and inquisitive nature. They also help your team function under limited resources and still solve the problem at hand. Teams that manage escaping deserve recognition in whatever form you know best. And those that fall to their fates need encouragement to collaborate more in the future.
The Art Studio
It won't be a corporate team outing ordeal for the artist if I fail to mention their passion now, right? The Art Studio is a place where anyone, from kids to very talented artists, can come and just put what they have in mind to canvas.
People of all manner of professions land in the Hungarian Games Art Studios for a fun chance as they bond and make memories. Here, no one judges whatever you put on canvas. However, bearing in mind that your team is the best in that niche, you shouldn't have a hard time creating masterpieces together, will you?
Be Tourists
It's about time to do something different, something spicy, something touristy. Fun work outings could be in the form of visits to the most serene locations your city has to offer. No need to go far; just look for someplace that everyone disregards probably due to its commonness and do proper research on it. Then as you tour your destination, remember to take pictures as you explain to them why you took them there.
The tourist destination sites you might venture into in your corporate team outing should give some ideas to put on canvas. Ask your team questions at the end of the event. This allows you to see who has an eye for details and who lacks keenness. This activity will help you conceptualize and understand your team better.
Volunteer & Karaoke
Recall me saying how simplicity could bring in the highest forms of sophistication. Well, why don't you try some volunteer work and see how that plays out in the end? Not only is it a form of Corporate Social Responsibility (CSR), but it also happens to be good food for the soul.
You actually don't have to outdo yourself. Something as simple as visiting the kids and sick in the hospital and taking food to them goes a long way in closing up that volunteer gap. You can also decide to help at the local soup kitchen or otherwise do some actual community services also works just as fine.
These are platforms for your team to bond in the outside setting. It also gives them an opportunity to actually relate with the outside world which might pass them at times when they're at work
What's more, your team can actually do some skill-based volunteer. Here is where they use their skills and expertise to assist in the operations of a non-profit. Whatever it is you decide to do, some generosity without expecting anything in return is like giving your soul a portion of aspirin you actually didn't know you needed.
At the end of the day, you can wind it all up with a karaoke competition in which everyone must participate in. Dinner and drinks could come in as added bonuses as you get to share the experiences of the day.
You can go an extra mile as the prudent leader and book your copy of
The Department Managers Guide to Winning Office Politics.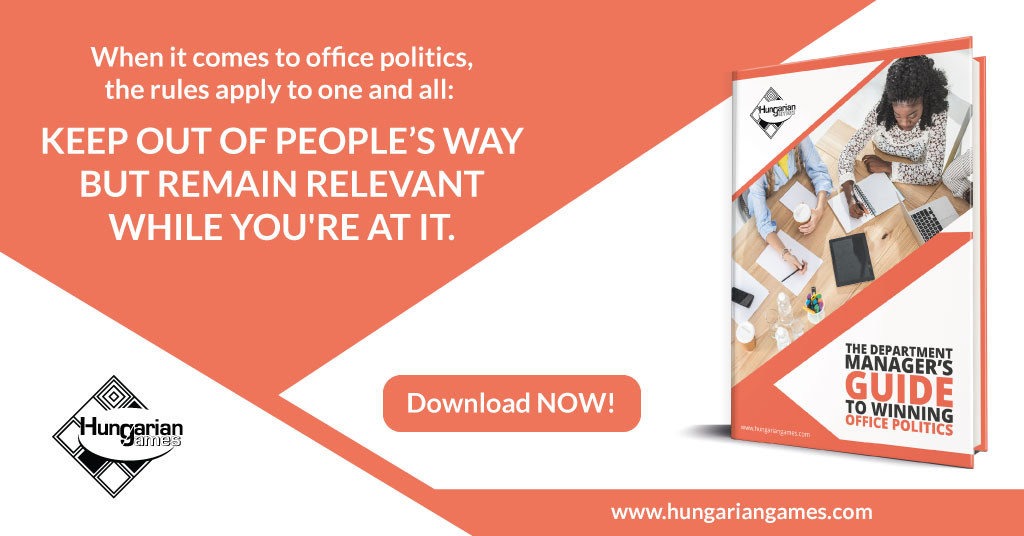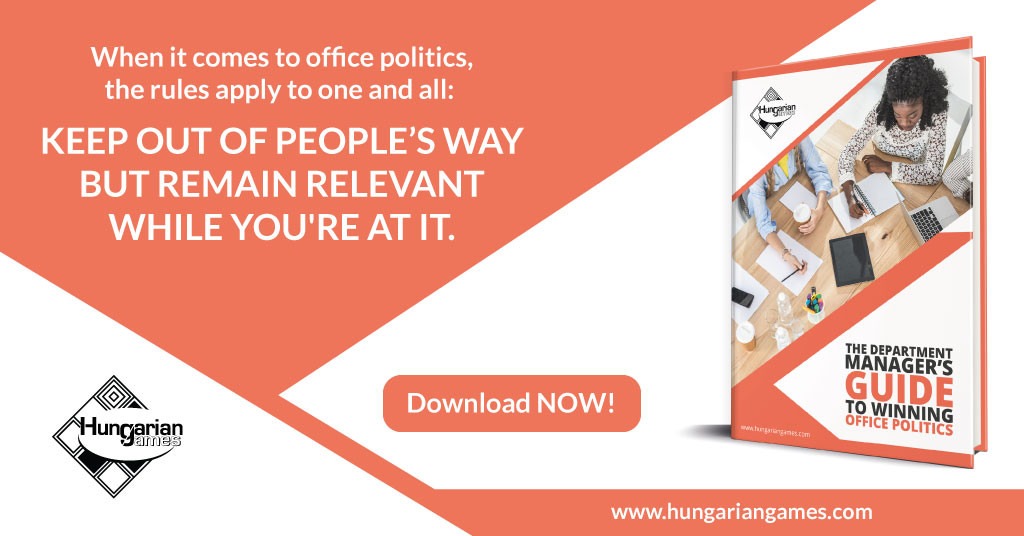 Final Word
Although promoting oneness in the office setting is relatively hard from time to time, it's not really difficult to have fun, bond, and make memories as you instill values in your employees.  What's more, most leaders aren't fully equipped to deal with the different personalities in the office environs. This is why a corporate team outing could come in handy to be your savior and best buddy. Arrange one now and earn the respect and recognition you've always desired from your team.