Summer is here, temperatures are climbing and the kids are getting restless. Escape the heat this summer with a trip to Hungarian Games escape rooms.  Escape rooms for kids are proving to be amazingly popular all around the world and Dubai isn't missing out!
If you're not familiar with the escape room game concept, it's a 60-minute adventure. You select a theme, such as the 4th Element Room (Lost Treasure of Atlantis), which brings to life your exotic underwater adventure. Then you and your family simply have to beat the clock and escape the game before your time is up. Sounds easy, right?
Escape Rooms For Kids (And Parents Too!)
Hungarian Games offers escape rooms for kids in Dubai, that is as fun and challenging as it sounds for children and for parents too, making it a great family summer activity for the whole family. So, if you're looking for a unique way to spend an hour with the family this summer, this is the way to go. It's entertaining and great for families and friends of all ages.
You and your family are locked in a room. You have an hour to solve all of the clues and escape. The clock is ticking. Is your family up to the challenge?
Here's all you need to know about Escape rooms for kids and why you and your family desperately need to experience one for yourselves.
Exercise Your Kid's Brains
One of the fun aspects of escape rooms is the way they challenge your kids to think. In an era where we are spoonfed answers, the escape room's combination of fiendishly clever clues, padlocked boxes that can only be accessed by decoding wordplay, solving math problems, or puzzling out cyphers will test your family's lateral thinking and collaboration skills while reviving those inter-family communication skills. Spoiler alert, there may be math involved. Those rusty problem-solving skills may come in handy during this game in particular as your entire family experience "active learning" at its best.
Escape From Social Media And Mobile Phones
Separating a millennial from their phones is never easy. After all, we're all addicted to our phones. Escape rooms for kids give everyone a reason to take a "time out" from their phones and come together as a family for collective fun. When you enter your escape room, your guide will have a box where you can store your valuables including your smartphone! Switch your phones to silent and forget about modern technology for a fabulous fun-filled but challenging 60 minutes.
Builds Family Cohesiveness
The Hungarian Games 4th Element escape room is a great way for the family to come together and reconnect in a fun, entertaining environment. Our escape room reminds family members of the ties that bind you together and refresh those communication pathways with fellow family members. If you're looking for something fun to do with your kids, take a break from your daily routine and head to the 4th Element Room to find the Lost Treasure of Atlantis!
It's Fun!
For a solid sixty minutes, your family will be scrambling around a room looking for answers to our tantalisingly clever clues. Along the way you rediscover the fun you can have as a family working together. All the way you will be laughing as you have a great time. Once you enter the 4th Element Room, you'll never get bored. Test your family limits and see if you can escape our challenging room. We know you can do it!
Make Lasting Memories.
Every family who takes the plunge and experiences our escape room comes away with a host of enduring memories. Whether it's your first escape room experience or your fifth, you won't forget it. Even if you don't make it out of our escape room before that dreaded clock goes off, your whole family will come away with a host of fun-filled memories. You'll laugh about the things you didn't figure out all the way home.
Family Summer Fun Reminders:
1. Bring Your Big Brain
Our escape room is a puzzle-solving phenomenon pushed to the max. Love puzzles and riddles? Good at picking up on obscure clues? If so, the whole family can test themselves against our mystery-masters. Our escape room is a life-sized puzzle that has 'consequences' for failure. Once you do an escape room, you'll be hooked. Bring your game day face, strap yourselves in, and brace yourselves for fun!
2. You're Not In Actual Danger
An escape room looks to simulate some form of threat to someone or something. However, we don't physically lock participants in the room for safety reasons. So, if a member of your family decides they want to leave early, then they can do so. The whole point of escape rooms is to have fun and we aim to ensure you have the maximum entertainment while always staying completely safe.
3. It's Family Friendly Affordable
Our prices are designed to make our escape rooms accessible for every family. We promise great value for money at an affordable price.
Yeah, Hungarian Games Escape Rooms are Air-Conditioned!
Ok, not a high threshold to pass but a no-brainer even so. Hungarian Games escape rooms are gloriously air-conditioned for your complete comfort. Needless ot say, our escape room is a fabulous way to leave Dubai's scorching summer temperatures far behind. So, book your adventure early and you'll be chillaxing in no time.
The Family That Plays Together, Escapes Together! 
Escape the heat this summer with a trip to Hungarian Games escape rooms. 
Can your family can beat the clock?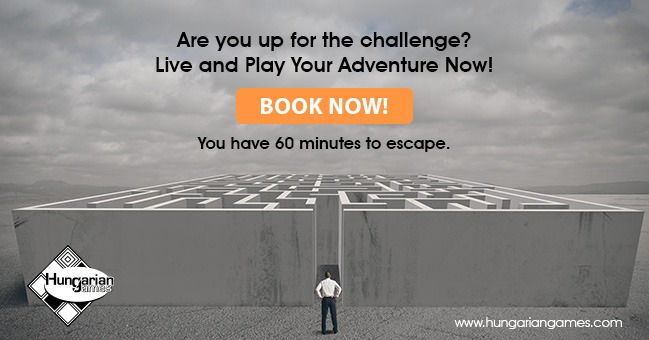 Final Word
Looking for something fun to do that the whole family can enjoy collectively this summer? Escape rooms are growing in popularity around the world and there are good reasons propelling this phenomenal support. They are an entertaining way to bring the family together in a brain-teasing immersive experience as you try to solve the clues and escape the room. It's a fabulous way for parents to reconnect with their kids. Whether you're planning a large family event or simply a day out with the kids, escape rooms for kids is a great choice for families this summer and during the holidays.